After coming into a wealth of scrap wood from removing a load-bearing kitchen wall and receiving a kreg jig for my birthday (eeeee! I'm in love! and that's an affiliate link because I think everyone should have one of these), I finally got to DIY the built-in window bench of my dreams. If that wasn't cool enough, it's 9×1.5 feet of storage in my cozy 1000ish square feet home.
I have a lot of favorite-project-to-date moments, but this one is definitely top 5! I started it about a week into quarantine and 4 months into my pregnancy. Everything about it was a dream come true.
Ditching our commutes got me more help with our baby girl and allowed me to sit and stare and draw plans for my new favorite corner in the house. I created a bright and sunny spot to work from home and read during my downtime. And over the holidays it served as the perfect hiding spot for Christmas presents.
before:
This picture was taken right after we bought the place and started cleaning up. I love this room.
currently:
My spaces are forever evolving, and luckily this bench suits all seasons. Of course, because nothing is better than a built in bench (if you ask me).
How to build a window bench
Fair warning, I am not a professional just a shameless doer. It was a gradual process made out of started out of scrap wood and was very much pieced together, but if you're like me then you regularly daydream about projects around the house. I blame Pinterest, but if there's one thing I hope you learn from this "guide-like story" it's this:
There is more than one way to skin a cat.
That is a common phrase I hear in my DIY adventures and it is freaky way to say there's no "one, right" way to do any home project. My first real project was my floating deck and I learned real quick that no one was able to provide the perfect tutorial for my space.
And no one can make a perfect tutorial for yours, besides you!
But of course there are some simple tips you can follow.
materials for a built-in storage bench with a cushion
I had a solid handful of whitewood studs (the cheapest lumber at the time) from the sacrificial wall during the load-bearing wall removal and they moved around my house for over six months before this project began. I never waste scrap wood. Ever.
We ended up buying some more to finish out the frame.
The interior is framed with 1/4″ plywood and the exterior is 3/4″ plywood. We bought a 4×8′ sheet of each
The full list of materials include:
10 2x4x8 whitewood studs
1 4×8 1/4″ plywood
1 4×8 3/4″ plywood
MDF baseboard moulding (to match the rest of the house)
Miter saw (for the studs)
Table/circular saw (for the plywood)
Kreg Jig
Power Drill
Brad Nailer
Level
Wood filler
120 & 220 grit sandpaper
paintable silicone caulk
paint & primer
For the cushion:
High density foam in 2″
Quilt batting fabric
Tablecloth
velcro
How to build your own custom built-in window bench with storage
Decide on a design – gcet to work cataloguing inspiration. Will your bench be used for storage or be floating? Will it have drawers? Doors? Moulding? Do you want a cushion? How thick?
Figuring out these details is critical before you begin. I'm a chronic change-my-mind-mid-project kind of girl, and I'm ok with that. But most of the problems that come up with my end result are because I didn't stick to what I originally intended OR I hadn't made any definitive plans for those details.
The easiest way to get any project going is to work backwards from the design. If you know what you want then everything else will fall into place.
These are some of the inspiration pictures I had in mind:
This is from an ice cream joint nearby (Whaddup Bright Ice!) and ultimately inspired the front deck planter that I'm working on!!
I love this look, but I know my butt and needed a cushion.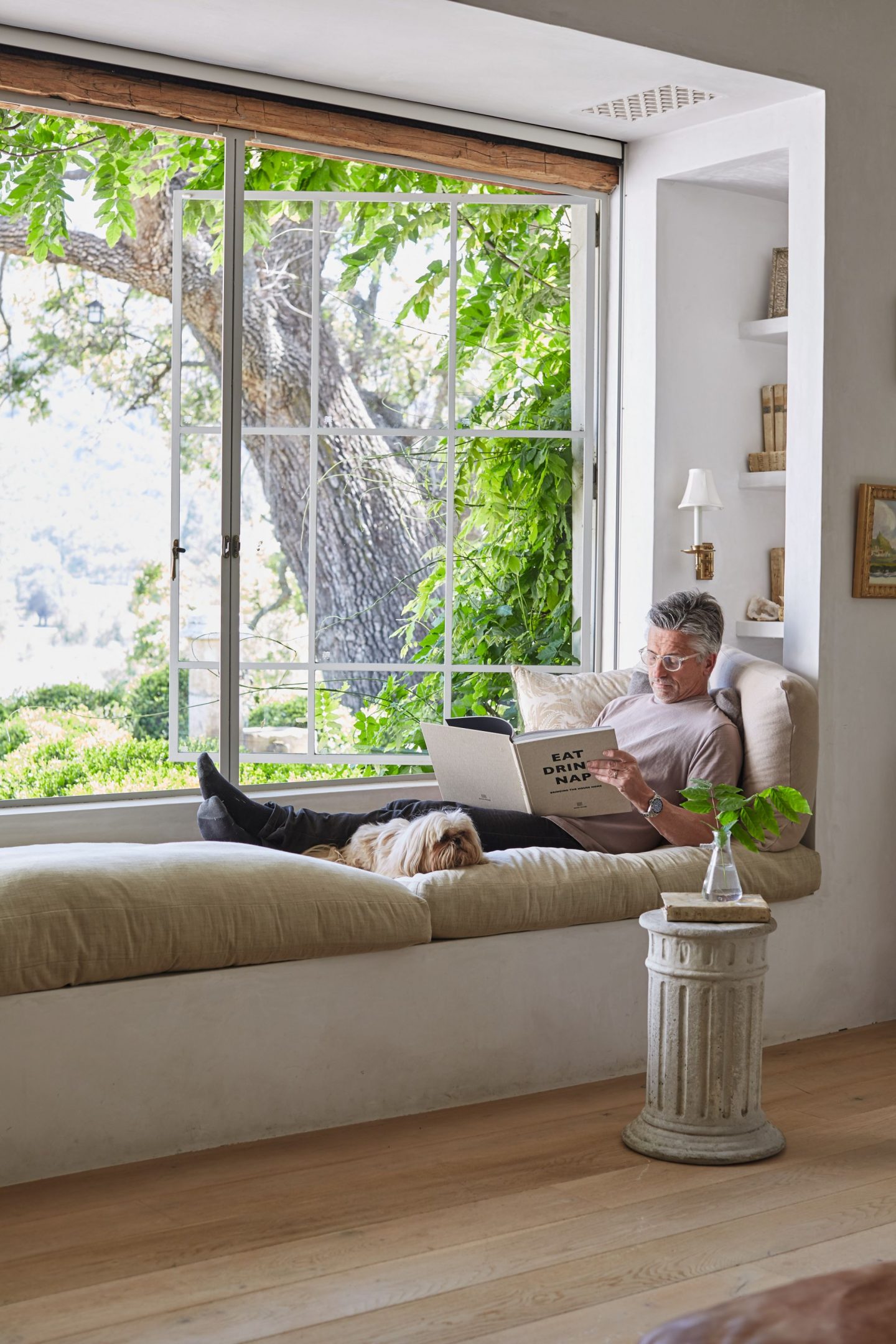 This is so much my speed with the super plush cushion. I mean… 😍
I also knew that I wanted STORAGE. There are two options here: drawers or a lid. I went with the lidded option because drawer slides are still intimidating to me AND lidded storage seems to offer more space.
2. The most important detail for a built-in bench is the seat height. Working backwards here. Standard height is about 16″ to 18″ including a cushion. I learned that from online shopping and checking out the dimensions of my dream furniture. Keep that in mind before you start drawing plans and making cuts.
I wanted a big thick cushion like above, but did not plan accordingly. Ultimately ended up deciding on a 2″ cushion, so my bench structure couldn't be taller than 14″-16″.
I purchased some of this high density foam and cut it in half. The cushion is still in progress (since I'm not in love with it) and that deserves it's own post!
3. Draw some plans – you need to know the dimensions and materials you plan on using. My plans are still extremely amateur but they work! I've been dabbling with the free version of SketchUp and it's… a learning curve.
I have this dotted journal which I absolutely love for drawing plans because of the easy straight lines and scaling. These are my first and only drawn plans.
Here it is IRL!
Completely neglected my design, but laying out the dimensions is the most important part.
I definitely go with the flow and never want to stifle my own ideas just because I didn't come up with them originally. But plans are fun, aren't they?!
4. Build a sturdy frame – one that you know is wayyyy too strong. Mine is drilled into the wall and passed the dad-shake test and the pregnant-person-sitting-on-it test.
Note: I did not drill into the original hardwood floors. But the frame is nice and tight against the secured wall boards.
And for good measure, I threw some extra supports in the front and between the center support.
This is how those center supports are installed aka Kreg Jig Magic
5. Frame the interior and exterior – I used 1/4″ plywood to frame out the inside boxes for storage. I figured out the dimensions I needed and brought this to Home Depot for the purchase:
Home Depot and Lowes will cut your wood for you, and although we have a table saw at home we needed some cuts done in order to fit the stuff in the car.
There's the almost finished interior result. After this I nailed the sides in and Tano used the multi-tool to help me shave down the excess.
And I threw some extra plywood over any remaining exposed 2x4s because why not.
Then we slapped some 3/4″ plywood across the front. Since they sell these in 4×8 boards, there were about 6″ on each side which was left exposed. I just cut those pieces off some scrap and it blends right in with some wood filler on the seams.
I did the same thing on the top without the wood filler. This allows the doors to open. Notice the little lip I drilled into the frame? That's for additional door support.
Before cutting the top 3/4″ plywood for the doors/lids, I ripped off a 3″ strip to frame out the back of the bench along the wall. The idea was that the doors would have trouble opening and staying open if they were perpendicular to the wall. I needed a little buffer for the thickness of the cushion, etc. Also, I wanted the doors to be able to lean against the window and stay open.
I didn't get a great picture but here's my first picture of the kitty loving it.
The doors hang over slightly so I can grab it and lift them! I also left a gap (about 1/2 an inch) between the doors and the back strip. This was to avoid tightness or accidental pinching. There's a lot of little fingers in my house.
6. Add decorative elements – There are so many varieties and it can be hard to choose, but for my built-in look, I wanted the baseboard moulding to go right over it just like the rest of the walls. But I've seen great looking benches that have boxed out moulding and tons of other beautiful accents.
It's all about how creative you want to be!
7. Caulk, Prime, and Paint – need I say more?
It's an absolute mess but this is reality lol
What I'd do differently
Account for a taller cushion
I like the look of a much thicker, more plush cushion. But my planning was a little too short sighted. And I should probably mention that I'm a little short. I overbuilt the frame so it's already at about it's maximum height for comfortable seating for average sized people. I like the low, seating you see in mediterranean countries.
Also, the cushion materials are surprisingly expensive! I was shocked by how much that raw pillowtop costs. Luckily the 2″ foam I could fit on top was among the cheaper options.
Plan out the internal frame a little better
The floor/house is crooked so there's a quarter inch here and there that make it look lopsided inside. Luckily it's doing its job and is full of our junk so you can't tell.
Use different hinges
The top doors open, but they aren't incredibly high quality. They came with very flimsy screws, which I should have replaced but I would really like to replace them with those European concealed hinges. I'll need a new tool/jig for that so it hasn't happened yet. But it's happening soon. 😈
Sand it before priming!
This should be obvious, but I was/am always winging it. I was just thrilled to have an actual window seat being built, so I primed the raw, unsanded wood and it shows.
The front is a little more rough than I like or what I would accept from, say, a piece of furniture. But I still haven't painted it so I will be doing a light sand before throwing a final paint color on there.
The built-in storage bench progress
This project is still slightly unfinished which is why I have waited so long to post this. However I am excited to eventually post a full completion post within the year. But the process of putting it together is a post in it's own right, so thank you for embracing the messy middle with me!
The sun room is still my husband's home office so it isn't very reasonable for me to do the full makeover I've been craving (!!). We've been teased (taunted?) with him returning to the office several times over the last year, so I'm not sure how much longer that room will double as a dual office.
Luckily I have plenty of other projects around the house and we have the coziest little unfinished reading & relaxing nook addition!
Stay posted for the full reveal!